Almost half of all British women who enquired about improving their bottom with the help of cosmetic surgery cited Kim as their role model for the perfect posterior.'Kim has risen from just outside the top ten to the number one position in record time and is a firm favourite among women in the UK and elsewhere around the world.
'The Brazilian lift is now one of the most highly sought-after procedures we do - we've seen a 200 per cent increase in the number of UK enquiries for this procedure in the last 12 months alone. British women love beauties like Nicki Minaj and Kim Kardashian who have bigger bums and are not afraid to flaunt them.'
The 33-year-old reality star reportedly feels 'sexier' the bigger her behind gets and in spite of denying surgery in the past, Kim has allegedly splashed out £12,000 on bottom-boosting injections.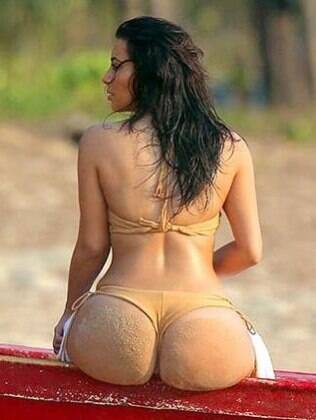 A source told Closer magazine: 'Kim's been focusing on her bum a lot lately - it's becoming almost obsessive. She says the bigger it is, the sexier she feels. But Kim's obsession is starting to worry her friends - they're concerned she'll take things too far.
'Kim says she wants an eye-popping booty that everyone notices. It's part of her brand.'
TOP TEN FEMALE CELEBRITY BOTTOMS
1. Kim Kardashian
2. Kylie Minogue
3. Beyonce
4. Nicki Minaj
5. Iggy Azalea
6. Sofia Vergara
7. Jennifer Lopez
8. Jennifer Love Hewitt
9. Cheryl Cole
10. Kelly Brook